Best Android emulator for pc and mac
There are many reasons why you should be looking for way to run Android emulator on your PC. one of these reasons android games and application development.
So the last day I was playing PUBG with my friend on phones and I got bored from the phone so I look for a way to make the game more interesting.
I do some research online and I came up with a bunch of Android emulator. so I was wandered that this emulator can run the games well and smoothly?
10 Android emulator
bluestack
bluestacks is the most popular emulator, Compatible with windows and mac. he works well and he still gets regular updates ,this emulator targeted mobile gamers because he includes key-mapping and settings for many games installed.
and he contain Affiliate Platform you can use it to make money or get a lot of gaming things.
Download Bluestacks from the official site
memu play
this emulator targeted mobile gamers as Bluestacks, He supports intel and AMD chipsets . in addition he supports most android varsion like Jelly Bean, Kit Kat, and Lollipop.
You can duplicate the emulator and Run multiple games at once, and you can use it as a productivity tool.
Download memuplay from this link
nox player
Noxplayer is like The past Android emulator he Targeted mobile gamers.
Free tool in constant development that includes the mapping keys with your keyboard and he supports the actual controller, and the ability to keymap gesture controls.
he works well and rarely issues .
Game loop
gamers android emulator he knows before as Tencent Gaming Buddy. He is an emulator creat by Tencent game he contains all Tencent games like call of duty and PUBG and many other games outside of Tencent.
this emulator runs the games well and smooth but according to our tests, we got that the emulator not good in productivity or development.
in addition, the keyboard controls and performance is good.
LDplayer 
LDplayer he is gamers emulator as well, He contains a good mapping keys control and supports the last games. like call of duty, PUBG, Clash of Clans, free fire, Black Desert Mobile, and other games.
he gets a monthly update but he running with an old version of android (android7) we hope they Update it.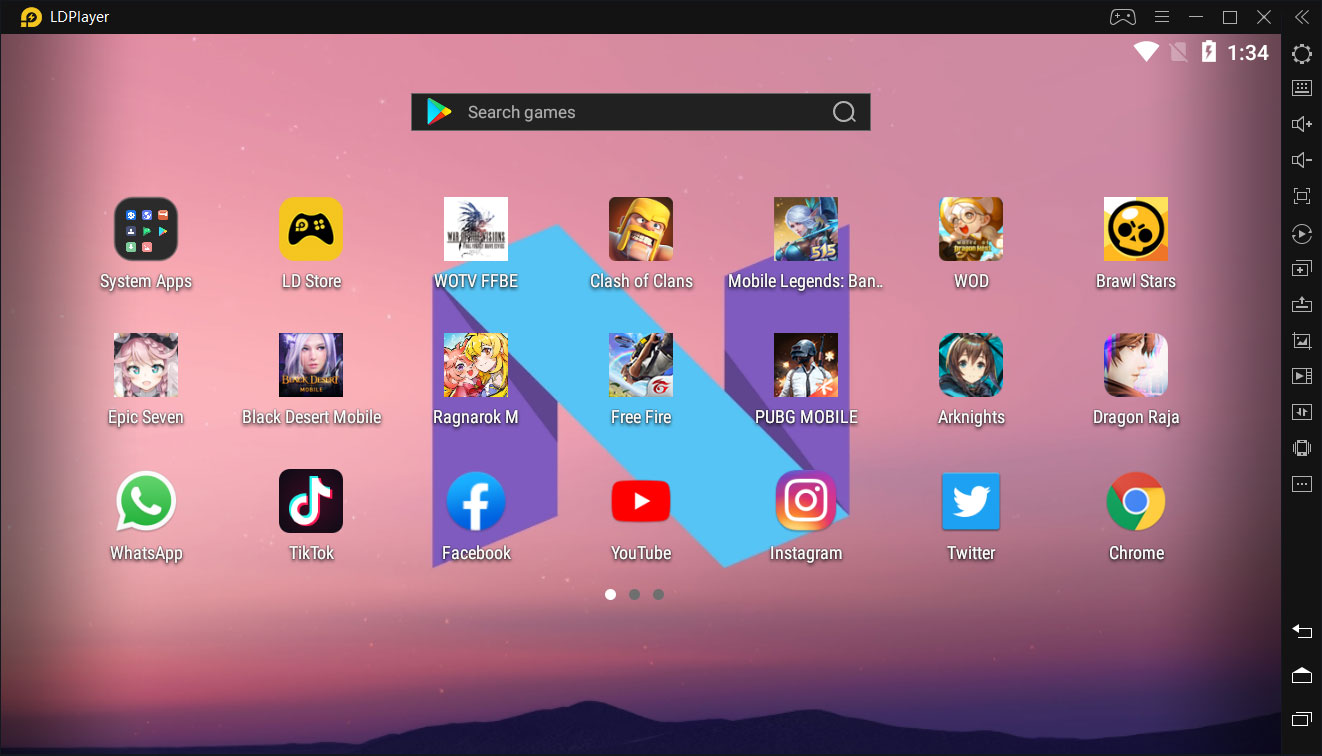 you may like this posts : 

best online android games to play with friends 2020 for free
Android Studio 
Android Studio provides the fastest tools for building apps on every type of Android device. he comes with a bunch of development tools to help developers to create android apps and games.
This software has an emulation tool but he is not considerate for gamers, because he takes a long time to start up but we recommend it for developers to test them projects.
somme features in Android studio :
visual layout edition
apk analyzer
fast emulator
intelligent code editor
flexible build system
real-time profilers
you can read more on this link
Phoenix OS
Phoenix OS is one among the newer Android emulators for PC. Like most lately , it boasts a gamer experience. However, it also boasts a desktop-like experience so it actually works pretty much for productivity also .
It's Google Play Services, although updating those services are often a touch of a pain sometimes. meaning you get every app and game within the Google Play Store.
Phoenix OS also runs Android 7.1 which is comparatively modern for an Android emulator. you'll download the emulator from its official website and its forums are housed on XDA-Developers.
PrimeOS
PrimeOS is quite a standout within the Android emulator space. It's not actually an emulator. you put in this as a partition on your computer and it boots up running native Android.
It's a gamers focused Android experience, although you'll totally use this for productivity if you actually want to.
PrimeOS includes a gaming center, and key-mapping setting, and access to most Android apps and games.
To be clear with you, it almost runs like ChromeOS minus all the Chrome parts. you'll multitask, watch video content, or play games as you select .
Remix OS Player
Remix OS Player by Jide is one of the newer Android emulators for PC (comparatively speaking). It runs Android Marshmallow and that's still relatively new compared to several of the others on the list.
The installation process is really simple and easy, It caters mostly to gamers.
There is a couple of gamer specific features alongside a customizable toolbar. It boasts features like running multiple games directly.
That said, it's a reasonably clean emulator so it's still perfectly usable as a productivity tool. the location seems to be down and we're relatively certain Remix OS Player isn't in active development anymore.
It should be okay for an additional year or two before it starts to feel really old.
Bliss OS
Bliss are some things a touch bit different. It is an Android emulator for PC you can run it with a virtual machine.
However, it also can just flat run on your computer through a USB stick. The boot-from-USB option is certainly an influence user option and not recommended for fewer intense use cases.
As a VM install, the method is straightforward, but tedious if you've never made your own virtual machine before.
The USB installation method is even more complicated, but it lets your computer actually run Android easily from the boot. that creates Bliss an excellent unique emulator if you'll make it through the steps to the top .
Of course, it only really runs well if your system is compatible so be prepared with a backup of your current OS . The emulator runs with Android Oreo and that's among the newer versions of Android offered on an emulator.
Read more about Bliss OS this link
so did you find this post useful for you ? dont forget to share it .